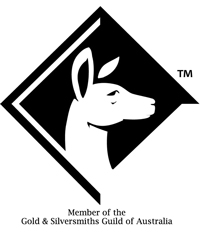 JEWELLERY ETCHING
AN INTRODUCTION TO THE TECHNIQUES OF ETCHING

Intricate and beautiful images, designs and patterns can be created using etching techniques.
Etching is a valuable and versatile technique for all jewellery enthusiasts.


Tutor: BARBARA RYMAN - Enamel Artist, Jewellery & Teacher with 40 years of professional experience

When: Etching: March 3, 4 & 5, 2018
Champleve Enamelling: March 17 & 18, 2018
(5 days in total)

Where: Studio 303, Leichhardt
Students: basic bench skills (also beginners see below)

This course is included in the Etching (3 days)and Champlevé Enamelling (2 days) course (5 days in total)

Cost: $885 for the 5 day course
MAXIMUM 9 PLACES - ONLY 2 PLACES AVAILABLE

Plus an extra cost: approx. $185 for materials, metals, chemicals etc supplied to you at Studio 303.

A tool and equipment list is supplied on request and on enrolment.


Terms: The course will proceed with a minimum of 7 students (max 9 students) and if it doesn't have the numbers to run and is cancelled your payment will be refunded in full. Note: If you are paying for accommodation and/or flights to attend our course it would be worthwhile to check that either or both can be cancelled with a refund and without penalties (it may be worthwhile to insure your flights). This is only in the event that the course is cancelled or delayed.
Course outline & objectives:
We will use a special paper onto which we photocopy black and white images. The resulting 'black' images are then attached to the surface of sheet brass, copper and etched using Ferric Chloride. The same processes will be used on Silver using Ferric Nitrate. Very fine detail can be etched with accuracy and little pain!
You will learn all the details and tricks of creating your patterns and getting the best results from the Etching process. You will be able to independently produce more designs in the future. The chemicals we use are much safer than the traditional strong acids and you will be able to use this method of etching in the home workshop.
At the completion of the workshop you will have a collection of patterned plates that can be incorporated into a variety of future jewellery projects. If time allows, you can turn your etched silver strips into rings. Below are samples of simple styles you could make.
and versatile technique for all jewellery enthusiasts.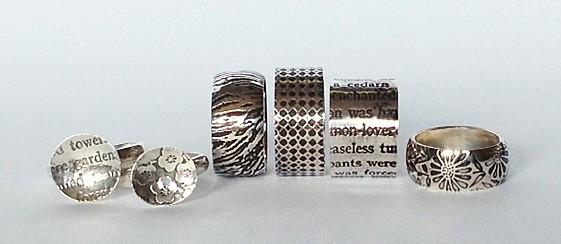 Using a variety of samples, I will show you many ways these etchings can be utilised and I will also introduce the process of die-forming, a technique that enables us to transform our etched plates into dimensional pieces.
NOTE: The basic bench skills of sawing, filing, soldering and polishing are required for this course.
Complete beginners are welcome but they will need to concentrate on the Etching process and
can then use their etched metal in future classes when they learn their basic bench skills.
---
Course Timetable:
(maximum 9 students)
Day
Time
Instructor
Tuition
Saturday -3rd March 2018 (Etching)
10am - 5pm
Barbara
6hrs (1 hr lunch)
Sunday - 4th March 2018 (Etching)
10am - 5pm
Barbara
6hrs (1 hr lunch)
Monday - 5th March 2018 (Etching)
10am - 5pm
Barbara
6hrs (1 hr lunch)
Saturday - 17th March 2018 (champlevé)
Sunday - 18th March 2018 (champlevé)
10am - 5pm
10am - 5pm
Barbara
Barbara
6hrs (1 hr lunch)
6 hrs (1 hr lunch)
---
TUTOR: BARBARA RYMAN'S PROFILE
Barbara has worked professionally for many years as an Enamel Artist, jeweller and teacher. She often combines the techniques of Enamelling, Etching and Die Forming creating jewellery with expressive colourful designs and patterns. Barbara passionately teaches this ancient craft to her students. She is very well known for her extraordinary work and skill and is well respected by the trade.

"Shaping and manipulating metal gives me great enjoyment but it is the inclusion of enamel into the designs and work that has kept me intrigued and excited for so long. Enamelling is central to my work and in the last few years I have extended my projects to include vessels and containers. With a life time involvement in the medium I now cheerfully describe myself as an Enamel Artist."

"Enamelling (glass fused to metal) is a beautiful and often challenging medium requiring many years of work and experimentation before one can truly understand and appreciate its vibrant qualities and its quirks. Now it is an integral part of my creative language. I love it for its technical challenges but also for its flexibility and versatility which has given me years of deeply satisfying exploration."

"I have also included many forms of etching in my work practice and have been able to combine these techniques very successfully with my enamelling."

Barbara was introduced to jewellery making and enamelling when studying painting for her Art Diploma at Alexander Mackie CAE. Her studies continued at Randwick TAFE where she gained her Jewellery Design Certificate whilst pursuing her study of enamelling. Since then, she has run and maintained her studio practice that incorporates producing Jewellery, teaching in her home studio as well as many other institutions such as Enmore Design Centre, Sturt Workshops, Sydney Community College and private studios, and continues to create work for exhibitions both in Australia and overseas.

Her work has been purchased for Public Collections in Australia and overseas and her latest solo exhibition, "Dreams and Shadows", was held in September 2014 at Stanley Street Gallery, Sydney.

In 2002, she made her first trip to Japan. She had won the Chairman's Award at the 36th International Enamelling Art Exhibition of the Japanese Enamelling Artist Association, held in the Ueno Royal Museum in Tokyo, Japan. "My work had been recognized with other awards in previous JEAA exhibitions so I already had an awareness that something in my work and its aesthetic sensibilities appealed to my Japanese colleagues. My first experience of Japan showed me how much their culture appealed to me and I knew I would return".

Barbara derives great enjoyment from sharing her knowledge through teaching and, at the same time has been passionate about furthering her own studies. In 2005 she went to study in the Faculty of Arts, Gold and Silversmithing School at the Australian National University. Her main area of study was experimenting with contemporary enamelling techniques. She received her Graduate Diploma of Art (Visual) in 2006. While at ANU she received a college grant to attend an Enamelling workshops in Nagoya. Her teacher was Tsuruya Sakurai, a retired master craftsman of the Ando Cloisonné Company. "We felt a strong connection straight away and our friendship began".

As Barbara's ties with Japanese enamellers grew, new stimulating and creative avenues have opened up. In 2007, a Skills and Development Grant from the Visual Arts Board of the Arts Australia Council enabled her to spend 6 weeks studying with Mr Sakurai in his studio in Nagoya. Since that time Barbara has returned seven times to further her studies.

"In Japan I have always been met with a generosity of spirit and good natured ease and openness that has made my visits both inspiring and enjoyable. My teacher has been determined to freely pass on to me his knowledge, understanding the vital importance of giving to the future. I look forward to continuing my relationships there and know I will never tire of visiting this fascinating country."


http://barbara-ryman.com/